According to China Daily (see pic), nothing to do with seedy strip clubs, like erotic dancers walk on stage, take off their clothes and their moves on the pole are quite suggestive. Don't worry guys, sooner or later somebody will come up with something.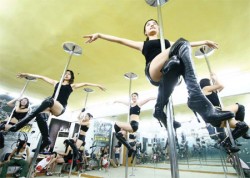 After the craze with belly-dancing, pole-dancing is in and at least one center is offering lessons (Royal Sound International Dancing Center – tel 58631083).
The school "encourages its female students to wear high heels and hot pants, so they feel "sexy" during the routine.". Hmmmm….
In Beijing anything goes, except politics of course.