Call for comments
A major Chinese news agency asked me for my comments on the China Foreign Investment Law, in the middle of March. I tried to give a more honest approach keeping in mind the concerns of the small and medium foreign enterprises. Their voice is mostly ignored in favor of the bigger companies who have little choice but to play nice and avoid controversial remarks.
Not surprisingly, auto-censorship on the Chinese side could not let my contribution pass. Only favorable comments were welcome. And I refused to sugarcoat the issues.
It is actually not very constructive to improve the business environment if any meaningful dialogue is banned.
The most important comment I had left out: "Why is there a need for a China Foreign Investment Law anyway?" If foreigners set up a legal Chinese entity in China, why a different treatment? In the E.U. such as in Belgium no such law exists.
See the comment from the European Chamber, part of the article "European Chamber's Stance on the Foreign Investment Law", see https://www.europeanchamber.com.cn/en/press-releases/2937
More than anything else, foreign companies want equal treatment and opportunities, while not all of our concerns were addressed in this law, it is time to move forward. We will closely monitor the FIL's implementation to ensure that it is fully respected at all levels of government and in all corners of this country.
My comments on the China Foreign Investment Law
See the full text here: 190315 foreigninvestmentlaw
What is acesulfame?
I already explained but just google it for more details.
The point I want to make is that this substance is not known and receives no attention. But the consequences of the ban have been dramatic for many foreign products entering China: all destroyed. You won't read those stories in the press.
Dialogue is necessary
The European Chamber and Amcham, among others, are still keeping up their dialogue with the Chinese authorities to get rid of unfair rules and have scored progress for a range of products.
Also, the general feeling of Europeans (including me) is that China becoming a world power is not a threat as such; how it fulfills its role is another matter.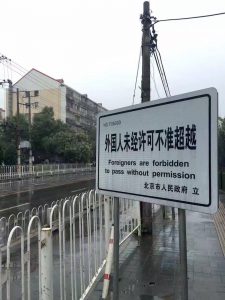 Much remains to be done to make the business environment open and fair. Indeed a painful issue is the unequal treatment of foreign businesses in general.
More about that later in other posts.