Trump toilets are popular
(First of two articles on this issue)
Lots about this in Chinese and international media. What is the connection between Trump toilets in China and IPR? More than one could think.
First, the toilet story.
See:
https://www.yomyomf.com/hey-donald-trump-chinese-company-trump-toilets-are-ready-to-battle-for-your-name/
Hey Donald Trump, Chinese Company "Trump Toilets" Is Ready To Battle For Your Name
By Erin Chew – 17 November 2016
I quote in part:
Ever felt constipated or wanting to relieve yourself after listening to the moronic dribble coming from President Elect Donald Trump and some of his supporters? Well, Chinese company "Trump Toilets" will sell you a luxury toilet equipped with the high tech stuff you see in luxury toilets – you know the seat warmers, sensors etc.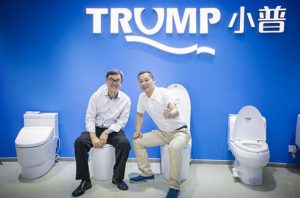 They registered the name and trademarked it in 2002, and have stated if Trump tries to take them to the courts they are ready to fight. And if you are online checking out how to purchase a "Trump Toilet", it will set you back around $880 per unit. They are doing pretty well in China, having captured 85% of the Chinese market share and boasts that over a billion people relieve themselves of "Trump" every year. (not sure about that however!!!)
And also:
In China, Toilets Have Trump's Name Without His Permission
By SUI-LEE WEE – 15 November 2016
http://www.nytimes.com/2016/11/16/business/china-trump-trademark-toilet.html
The founder of a Chinese brand of high-tech toilets called Trump said he had no intention of soiling the name of America's next president.
Zhong Jiye, the founder, said he had not heard of Donald J. Trump when he registered the English name of his company, Shenzhen Trump Industrial Company Limited, as a trademark in 2002. In Chinese, the company name means "innovate universally," he said, highlighting how the toilet seats warm and wash the user's backside. That Chinese name, he explained, also sounds a little like "trump."
Trump is very present in China
Since quite some time, Donald Trump has tried to register his name as a trademark but had failed – till now. He did register quite a number of trademarks, see here details:
Of the 46 registered trademarks under the Trump name in China, 29 appear to be owned by Mr. Trump, based on data with the country's trademark office. At least 14 companies not associated with Mr. Trump applied for the Trump trademark in 2015 and 2016 alone, according to Itaotm, a Chinese commercial trademark website.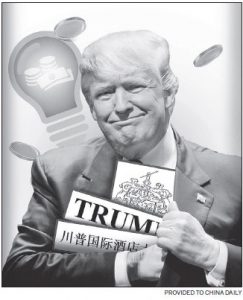 23 Nov 2016 – Trump trademarks grow, not all from US president-elect
By Zhang Zhao – China Daily
http://www.chinadaily.com.cn/cndy/2016-11/23/content_27462362.htm
I quote:
US President-elect Donald Trump, as a famous entrepreneur, has filed more than 80 trademarks in China using his name over the past decade, most of which have been granted.
According to a report on Beijing Youth Daily, Trump filed his first five trademarks in 2005. In 2015 alone, when he announced he would take part in the presidential election, he filed more than 40 trademark applications in China.
The applied trademarks cover a wide range of businesses, such as real estate, financial services, insurance and education.
Trump trademarks grow, not all from US president-elect
Besides his name Trump and Donald Trump, as well as their Chinese translations, the trademarks also include Trump Estates, Trump Plaza and Trump International Hotel& Tower.
However, Trump is not the only one in China applying trademarks with the word Trump.
In December 2006, Trump filed an application at the national trademark office for a Trump trademark in the category of house interior decoration and repair services. The application was rejected because a Chinese man named Dong Wei had applied the same trademark in the same category just two weeks earlier.
"However, as Trump has now become the next US president, it is likely that the Chinese trademark office will reject any Trump trademark applications from other people in the future," it was said.
[TO BE CONTINUED]