The new Trump team
"Death By China" is again in the news. Sino-US trade frictions loom with Trump's new pick for policy adviser, as explained in the SCMP:
Appointment of China critic Peter Navarro points to more bilateral tensions ahead, analyst says.
22 December 2016,
http://www.scmp.com/news/china/diplomacy-defence/article/2056678/sino-us-trade-frictions-loom-trumps-new-pick-policy
Peter Navarro
The professor is the author of "Death By China: How America Lost Its Manufacturing Base" (2011)
See the Official Version of the documentary (in China you need VPN):
I did watch the entire documentary and can only say it is pretty harsh on China and at least a part of his statements are simply dead wrong, e.g. his take on Apple and Foxconn.
However he could find some supporters in the foreign business community for some of his criticism. Anyway Chinese officials better not simply dismiss the whole thing but instead have a close look.
More from Navarro
Peter Navarro is a professor at the Merage School of Business at the University of California-Irvine. With a Masters of Public Administration from the Kennedy School of Government and a Ph.D. in economics from Harvard, this distinguished macroeconomist has written extensively on Asia as well as lived and worked there.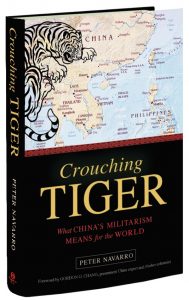 His other book: "Crouching Tiger: What China's Militarism Means for the World" (2015)
See: http://crouchingtiger.net/
It says there:
Will there be war with China? The Crouching Tiger book provides the most complete and accurate assessment of the probability of conflict between the United States and the rising Asian superpower. Equally important, it lays out an in-depth analysis of the possible pathways to peace. Written like a geopolitical detective story, the narrative encourages reader interaction by starting each chapter with an intriguing question that often challenge conventional wisdom. Based on interviews with more than thirty top experts, the author highlights a number of disturbing facts about China's recent military buildup and the shifting balance of power in Asia: the Chinese are deploying game-changing "carrier killer" ballistic missiles; some of America's supposed allies in Europe and Asia are selling highly lethal weapons systems to China in a perverse twist on globalization; and, on the U.S. side, debilitating cutbacks in the military budget send a message to the world that America is not serious about its "pivot to Asia."
And so on.
Oh well, not planning to buy his book(s). Let's see what he will really do. And good luck to him. He will need it.