The IPR area in China is a minefield
(second part on this issue)
If Donald Trump battles China IPR, he is not alone.
As quoted from NYT:
Mr. Trump has fought at least once to get his name back. In 2015, he lost a legal battle against a businessman in the northern province of Liaoning, Dong Wei, to prevent him from using the Trump name for a construction company, according to a website run by China's Supreme Court. Then the decision was reversed. A notice issued on China's trademark office website on Sunday said that Mr. Trump's trademark had been granted preliminary approval for use in construction services. The Wall Street Journal reported the decision on Monday.
The situation highlights the difficulties that big brands and celebrities face as they navigate the country's relatively new trademark laws.
In China, trademarks are generally awarded to those who are first to file with the government. That has given rise to a crush of people registering the names of well-known brands, in a practice known as "trademark squatting."
Many Western companies like Apple and Starbucks have been caught up in long legal battles to win the right to use their names in China.
In May, a Chinese company won the right to sell its leather goods under the iPhone trademark after years of legal wrangling with Apple. Michael Jordan lost the rights to the name he is known by in China. New Balance paid $16 million in damages for what a court said was the illegal use of the Chinese name for the company, which a person had trademarked.
Donald Trump lost
Earlier, the South China Morning Post and CNBC commented on Trump's fight to protect his Trademark, see:
"The day Donald Trump took on the Chinese government — and lost" – 14 Nov 2016
http://www.cnbc.com/2016/11/14/the-day-donald-trump-took-on-the-chinese-government–and-lost.html
No matter what course U.S. president-elect Donald Trump takes with China, he starts out with at least one loss in his tangles with Beijing authorities.
Despite waging a long court battle, Trump failed to trademark his own name in the construction industry on the mainland.
Yet it seems Trump's surprise election win has begun to make a difference with the country's trademark officials.
His application for a similar trademark in the same categories as before — with the only difference being the capitalized name, "TRUMP," was filed on March 20, 2014, and provisionally approved on Sunday, four days after his win, according to the government-run trademark search system.
China's IPR a real "Far West" (in the East)
Many foreign companies have seen their trademark stolen by trademark squatters. The Chinese government mostly let them do, blaming the foreign companies by not filing on time.
There are so many cases of this type and some foreign companies had to spit up millions of USD to … buy back their own trademark.
As I said before, some clever foreign lawyers should do the same in EU and USA and squatter on Chinese brand names before the Chinese have the idea to act. It already happened, but not enough. Then of course China was "angry". Duh.
A typical case: Calissons d'Aix
See: French confectioners battle Chinese firm over Calissons d'Aix
16 November 2016
http://www.bbc.com/news/world-europe-38005875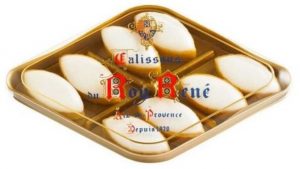 Excerpts
Angry French confectioners are preparing for battle over a sweet from Provence, after a Chinese company trademarked its name.
Calissons d'Aix are eye-shaped marzipan treats flavored with melon, and firmly associated with France.
But Shanghai-based firm Ye Chunlin snapped up the rights under the noses of the Gallic manufacturers.
Now the French Union des Fabricants des Calissons (Union of Calisson makers) in Aix is fighting to block the decision.
Calissons have had protected status in France since 1991, so any brand making them there has to follow set methods.
Chinese copying Chinese
Chinese copy anything, also Chinese famous brands
Just a week ago a Dutch friend saw these bicycles. Their logo reads JIANT. Oops. Doesn't that sound like GIANT, one of the most famous bike brands here?
China still needs to act to clean up this IPR mess. Donald Trump had also a taste of it but might be lucky as – President.
Others are not so lucky.