A mega delegation
In November 2019 a huge Belgian mission to China of business people and government officials invaded Beijing and Shanghai. Numbers for the participants were officially far over 600 but I heard even larger numbers.
The official list:
Belgian Economic Mission to the People's Republic of China, presided by Her Royal Highness Princess Astrid of Belgium, Representative of His Majesty the King and in the presence of
HE Didier Reynders, Federal Deputy Prime Minister and Minister of Foreign Affairs and European Affairs, and of Defence
HE Pieter De Crem, Federal Minister of the Interior, Security and Foreign Trade
HE Jan Jambon, Minister-President of the Government of Flanders and Flemish Minister for Foreign Policy, Culture, IT and Facilities
HE Willy Borsus, Vice-President of the Walloon Government and Minister of Economy, Foreign Trade, Research and Innovation, New Technologies, Agriculture, and Urban and Spatial Planning
HE Pascal Smet, State Secretary of the Brussels-Capital Region, responsible for Urbanism and Heritage, European and International Relations, Foreign Trade and Firefighting and Emergency Medical Assistance
HE Marc Vinck, Ambassador of the Kingdom of Belgium in Beijing
High-level meetings
From the media:
On 18 November 2019, Chinese Vice President Wang Qishan met in Zhongnanhai with Princess Astrid, the representative of the Belgian king and princess.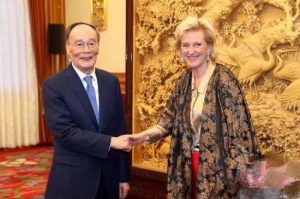 Wang said that the Chinese government warmly welcomes Her Royal Highness to lead a large economic and trade delegation to China. The Belgian Royal Family has long been committed to Sino-Belgian friendship In recent years, the successful exchange of visits between President Xi Jinping and King Philip has greatly promoted the development of bilateral relations. Belgium has a unique location and distinctive economic and cultural characteristics. At present, exchanges between China and Belgium at all levels and in all fields are developing. The all-round friendly and cooperative partnership maintains a high level of operation. Practical cooperation faces new opportunities. We hope that the Belgian royal family will continue to play an active role in implementing the important consensus reached by the two heads of state and taking China-Belgium and China-EU relations to a new level.
See also "Belgian Economic Mission in Beijing" by BelgiuminChina,
Link: https://mp.weixin.qq.com/s/PrpZXR2GK7ibPWXF73Nibg
Or for those unable to connect: 191118 Belgium_mission
The hacking story (media articles in Dutch)
Waarom willen de Chinezen onze handelsmissie hacken? En moet u als toerist voorzorgen nemen? 5 vragen en 5 antwoorden.
De Belgische handelsmissie die deze week naar China trok, werd massaal aangevallen door hackers, zo blijkt nu. Omdat de delegatie goed was voorbereid, kon er gelukkig geen informatie gestolen worden. Maar waarom proberen de Chinezen informatie te ontfutselen van België? En loop je als particulier ook gevaar om gehackt te worden in China? Vijf vragen en vijf antwoorden van Tom Van de Weghe, die vijf jaar correspondent was in China en zich specialiseerde in cybersecurity en artificiële intelligentie aan de universiteit van Stanford.
https://www.vrt.be/vrtnws/nl/2019/11/23/waarom-willen-de-chinezen-ons-hacken-vijf-vragen-en-vijf-antwoo/
en ook:
23 November 2019 – Economische missie in China slachtoffer van massale cyberaanvallen
Bron: Belga
https://www.knack.be/nieuws/belgie/economische-missie-in-china-slachtoffer-van-massale-cyberaanvallen/article-news-1535447.html
23 November 2019 – Buitenlandse Zaken 'op de hoogte van problematiek' van cyberaanvallen in China
Bron : Belga
https://www.knack.be/nieuws/belgie/buitenlandse-zaken-op-de-hoogte-van-problematiek-van-cyberaanvallen-in-china/article-news-1535555.html
My comments.
I will comment in another post, soon.